How do people move through the city?
Project with City of Melbourne to present realtime and historical pedestrian counts via an online portal. The City of Melbourne has over 30 sensors positioned around the city constantly counting the number of pedestrian movements. This project enables the public to access that data through an interactive visualisation which gives an overall view of the city, and detailed graphing of sensor location information compared to historical trends.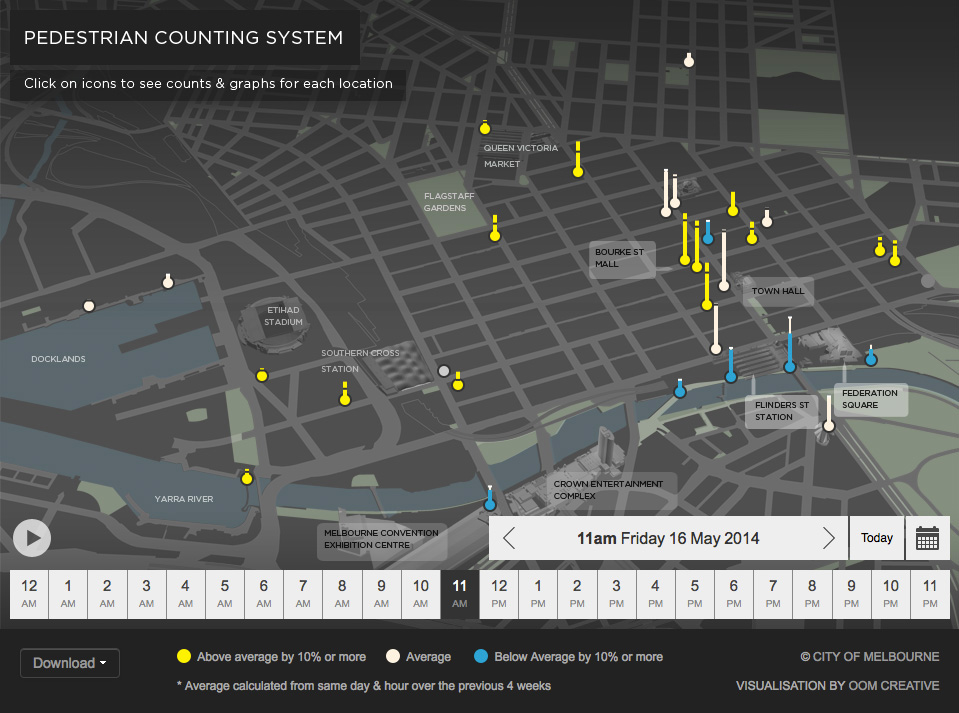 See live pedestrian counts in Melbourne now! visit the site: http://www.pedestrian.melbourne.vic.gov.au
Visual Approach
City of Melbourne required a quick city overview of count readings compared to a 4 week average, with then the ability to examine the counts at each sensor. The interface features are:
Visual representation of city and count activity
Select sensor to reveals count & graph comparing historical trends and current count
Select any day back in time, and step backwards and forward through days
Play through 24 hours of data
Share visual by posting URL
Download data and/or image of visualisation
 

On selecting a sensor a graph presents the shape of the counts for the day at hourly intervals. Graph shown on the left shows realtime view - graph of current day information - and the latest series of 5 minute readings for the last hour for the realtime graph. In the right image is a historical view of data for the same sensor, in this case 22 Febuary 2014 - day of Melbourne's White Night festival - causing an evening surge in pedestrian numbers.
Technical Summary
The system has been live since 2010 and in November 2013 we integrated hourly and realtime updates of the information. The system is designed to scale as new sensors are added, and provides a reliable and fast way to access visual and CSV summaries of the data.
User interface to see current and historical data
API to query data
Application to continuously present and record data into a database
The system is provided as a cloud hosted environment and we monitor the sensors with custom macro visualisation tools to get a better sense of how the sensors and the system is performing.
Open Data
The City of Melbourne has a new Open Data initiative, and all data from the pedestrian sensors is also accessible through this portal data. #MELBDATA Website

The project was featured in the Melbourne News magazine September 2012.