An audio visual experience of the city through data
Data Tapestry is a commissioned data-art work for the National Gallery of Victoria (NGV) Melbourne Now exhibition. The work creates a departure point for thinking about our contemporary city through ecological, demographic, and systems data sourced from the greater Melbourne region.
Working with a curatorial team, data researchers, and collaborating city organisations, we sourced a range of open datasets, and less accessible data, to present different themes of the city: for example 5 years of Melbourne traffic accidents, city trees, waterways, buildings etc. These were presented through a 4 HD projections and 4 channels of audio.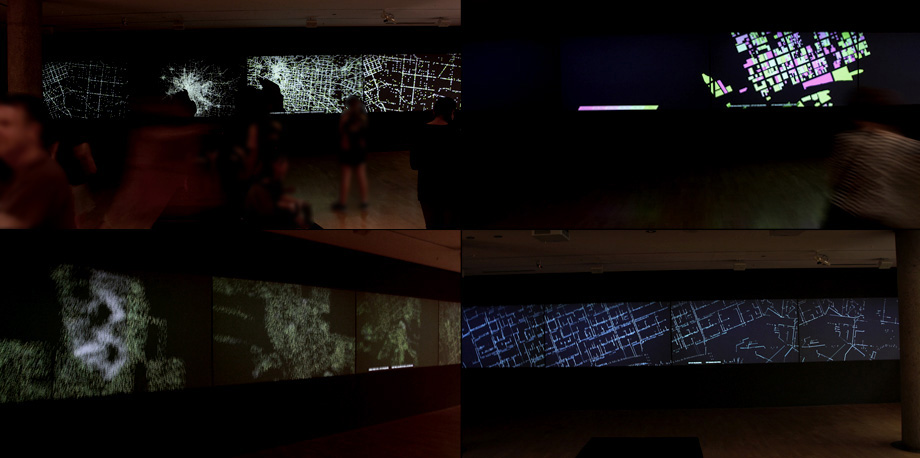 Visit the Melbourne Now website or see the artist page

Artist statement about data visualisation
As an artform data visualisation enables patterns to emerge from vast amounts of data. This data echoes the physical world we live in and rendered through a combination of design, programming & digital technology, data visualisation allows us to experience our world in new ways. As a designer data visualisation is not confined to the statistical or the analytical, but is an opportunity to explore the poetics inherent in data – a form of data aesthetics. Similar to words in language, or notes in music, visual & sonic encoding gives shape to data, it poises questions, and expands knowledge, and lets us sense - and in turn make sense - of our physical and informational environments.

Feedback and coverage
The response to the work has been great. Anecdotally, simply observing people in the space and overhearing the discussions about work, and the understanding of the general themes, has been one of the most rewarding parts of the project. And Melbourne Now has had great visitor numbers to date.
Selection of responses on Twitter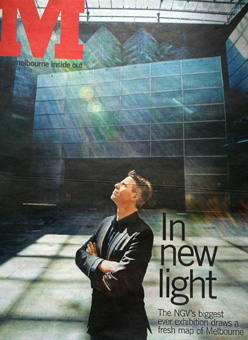 Greg More (Founder of OOM Creative) was featured on the cover of The Age's Metro Magazine, for the Mapping the soul of the city article by Megan Backhouse in The Age and SMH
Project Credits
Visualisations/Design: Greg More
Sound design: Marco Cher-Gibard
Data consultant: Serryn Eagleson (EDG Research)
Network programming: Steve Berrick
ZOOM Exhibition Curator: Ewan McEoin
Data Collaborators: City of Melbourne, VIC Roads, Department of Environment and Primary Industries (DEPI)